Some things I'm loving this week…
Spring is such a transformational time of year and it's a juxtaposition in extremes – on the one hand full of color and flowers and new life but on the other hand it also brings with it a darker side. Living in Texas, Spring brings with it storms of a fierceness that is both beautiful and frightening. This week's playlist was inspired by just that.
I've been obsessing over this polish for what seems like forever. NARS Stormbird is a gorgeous grey with a blue undertone that was part of their Fall 2012 collection. Scrangie described it in the bottle as "a thunderstorm brewing inside it". I actually own a "dupe" of this color, but I'm still hearing the siren song of Stormbird calling me.
Eric and I recently spent three days watching back to back episodes of the first three seasons of Game of Thrones on On Demand. I had to talk him into watching it, but after the first few episodes, he was hooked. Of course, almost every episode we watched included a trailer for Season 4 that was starting that weekend, and the song HBO used was a brilliant choice. I fell in love with the haunting tune, Chelsea Wolfe's Feral Love.
We both were so glad we managed to get through all three seasons and enjoyed every bit of it. I'm inspired to conquer reading book 2 now. And in a strange coincidence, I received an email from one of the ladies in my guild pointing out Michele Carragher's website (sadly, no longer live). She is a costume embroiderer who has worked on the costumes for Game of Thrones. And I love this photo of her.
I am absolutely amazed at the detail and talent in her amazing pieces. I'm absolutely enthralled with her work. I am going to make myself a goal to learn stumpwork and goldwork so I can add them to my needlework repertoire.
In an effort to finish up some of the decorating we've been doing at the house, I've been spending a bit of time on Houzz, which is a great site for ideas and inspiration, as well as sourcing pieces for home decor. I was looking through dramatic rooms, specifically those with dark walls and came across this living room.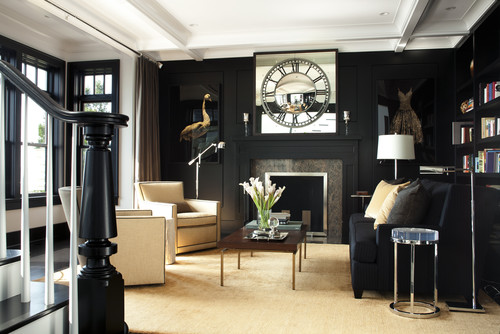 Of course I love the black walls, but what really struck me was the artwork. The framed pieces flanking the fireplace are mesmerizing. Skimming the comments told me that the artist is Todd Murphy. I believe both of these pieces, the straw goose and the straw dress, were both available through Restoration Hardware at one point. I loved that the images were floating on a black background, and when hung on a black accent wall the effect is striking. So, then I went on my own "goose chase" so to speak and found a number of Murphy's other pieces that I fell in love with.
What a statement piece for a room! I especially love this one…
I'm wishing I could add one of these to my own decor.
What's on your playlist this week?